Forum Addict
Posts: 264
Joined: Mon Oct 31, 2005 1:13 pm
---
I'll be very interested to see how it plays out. I hope that she doesn't overplay her hand. There is compromise available that would be good for the country if everyone realizes that they can't get everything they want. We can still get better.
---
I don't think there were any winners. Nation took a self-inflicted wound. It's only until Feb 15 then may start again.
---
Forum Addict
Posts: 264
Joined: Mon Oct 31, 2005 1:13 pm
Once the Senate passes the CR & Trump signs it, and the Trump Shutdown is over, the dealmaking can begin. Not before.

What kind of deal? Well, supposedly Trump really wants a wall. Badly. The Democrats (and most of the public) don't want it. So ... Trump can offer them stuff that they do want. That's what it means to make a deal.

The offer could be immigration-related (say, citizenship for DACA/Dreamers). Or it could be on some other issue entirely.

Nancy knows her business much better than you or I. She's taking a pretty hard line on this, so Trump will have to come up with a pretty attractive offer if he wants his wall (steel slats) (fence) (hedge) (whatever).
---
Forum Addict
Posts: 264
Joined: Mon Oct 31, 2005 1:13 pm
Shorty wrote:It's only until Feb 15 then may start again.
They're not going to start again. This Trump Shutdown was a huge PR disaster for the GOP and they know it.
What really ended it was the threat -- cf Laguardia today -- that the US air travel network would simply fall apart. Repubs may not care about federal workers being unable to pay their bills, but if air travel shuts down, their primary constituency (Chamber of Commerce types) will raise holy hell.
Does anyone think that, if the Repubs shut down the government again, that TSA workers and air traffic controllers would just shrug and say "Gosh, I guess I'll have to work another five weeks with no pay"?
Not gonna happen.
---
Wish I had a Fed job. I would like occasional furloughs.
---
Forum Addict
Posts: 264
Joined: Mon Oct 31, 2005 1:13 pm
Increasingly, you don't get a Fed job. You get hired as a contractor. And contractors don't get back pay for shutdowns ... unless someone does something about that soon.
---
I also think that one element of a compromise will include "some" wall funding, but considerably less than Trump wanted. And that's OK, because it increases the chances that the funding will be used in spots in which a physical barrier like that would actually make sense. And the Democrats should get something good in return for that, like a permanent fix for the Dreamers.
---
Forum Addict
Posts: 264
Joined: Mon Oct 31, 2005 1:13 pm
The resistance to deal-making is going to come from Trump's own people (Steven Miller etc.). The fundamental problem is that they know the wall is actually useless. Giving DACA/Dreamers citizenship in exchange for the wall would be giving a real victory in exchange for a symbolic one.

But Nancy Pelosi's not going to give Trump his wall for anything less than a real big concession. So ... most likely scenario is the government re-opens and the wall goes back to the back burner, where it spent the past two years (i.e., the time when Republicans could have actually made it happen if they really cared to).

And Trump spends the next two years alternately claiming that (a) he never said there would be a wall, (b) he's built the wall and it's awesome, and (c) those pesky Democrats are stopping him from building his wall. And his ever-shrinking base simultaneously manages to believe him on all three.
---
Ann Coulter: "Good news for George Herbert Walker Bush: As of today, he is no longer the biggest wimp ever to serve as President of the United States."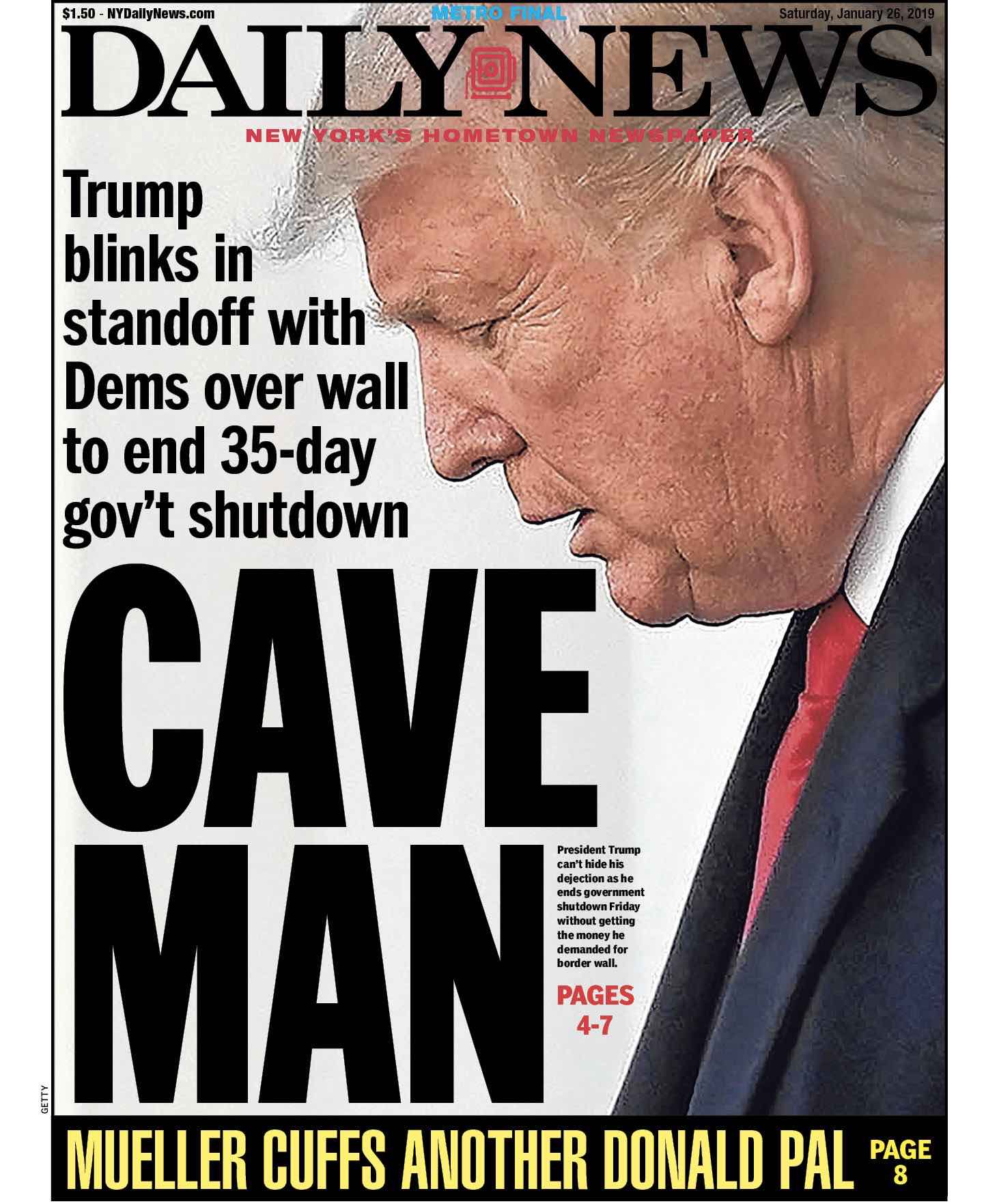 ---
I'm surprised. I was absolutely certain he was going to declare emergency and begin installing himself as president for life. I wonder if his military following might be a little weaker than certain photographs indicated.
---
---
Return to "National Politics & Government"
Who is online
Users browsing this forum: No registered users and 10 guests