LOL. "Helps" them.
JERSEY CITY, N.J. -- There are only two states in the country where recreational marijuana use is legal and the NFL teams from those two states are playing in Super Bowl XLVIII. So it probably shouldn't come as any surprise that Seahawks coach Pete Carroll was asked about marijuana on Monday.
Legalize pot but by all means lose the intellectual conceit.
Are we really going to sit here and presuppose that a football league full of 23 year old players are desperately hoping medical marijuana is standardized because their joints (pun intended) are killing them? Is it possible to be so fucked up on pot that you forget what it's like to be fucked up on pot? Because you would
have
to be that fucked up to treat the idea of marijuana as an analgesic seriously. You would have to be so stoned on pot, you forgot what pot is really like, and thus being mentally incapacitated, suggestible to anything.
Let's not pretend the medical weed recipients are getting anything other then a euphoric pleasant feeling out of the grass they're parading around as medicine either. NFL doesn't want "medicinal" marijuana, it wants to not have to suspend their players for using it for what they're really going to use it for - for what ALL medical marijuana users really use it for - for the only thing you CAN use it for: getting stoned. I'm all for legalizing pot but let's have the intellectual honestly to admit the reason we think it should be legal is that there's nothing wrong with getting high.
I love how the wilfully self-delusional quote/un-quote activists feel duty bound to convince themselves that it has to be "magic weed" for it to be okay to smoke. Thank god for those dramatic souls who insist on the need to entertain us with their pathetic, blatant posturing.
The reason to legalize pot is that there's NOTHING FUCKING WRONG WITH POT. People need to quit fucking convincing themselves of all this ridiculous bullshit. You give cancer patients pot for the same reason you give them morphine: because they're about to die and it cheers them up. It gives them a good feeling to go along with the bad shit they have to go through; otherwise mentally they would not much pull through it. There is the medical value of any stimulant.
I don't get the self righteous, hollow rhetorical charade people have got to drag themselves through about this subject. I mean if you have to be that full of shit to support the right to get high, maybe weed is not for you.
Pete Carroll doesn't
literally
think his players [/puff] need like to actually [/puff] smoke weed for actual medical reasons [/laugh]. He just needs all the fucked up puritan Cassandras out there to delude themselves into thinking so.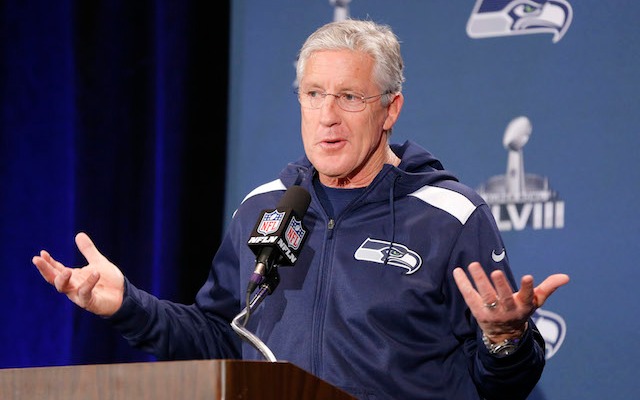 [/inhale\] Ahhhh.
Legalize Pot. But STFU.