In another thread, John Henry asks some questions about climate change. It's probably pointless trying to have a rational discussion with someone who's prone to lunatic conspiracy theories, but since others might be interested, I thought I'd go ahead and respond. But since the other thread is filed under "National Politics and Government", and I'm not interested in the politics of climate change, I took the liberty of moving it over here.
johnfajardohenry wrote:1) How much global warming has there been since 1900 or so to present? (Degrees C or F)
Since 1900, the global mean
land+ocean temperature index
has risen at a linear rate of +0.74C/century (95% confidence interval +0.67 to +0.81C/century). Because of the heat capacity of the oceans, the land is warming significantly faster than this, while the ocean is warming more slowly.
However, it's not really appropriate to calculate a linear rate over this period, because the temperature trend was clearly nonlinear: The temperature rose gradually through the 1920s and 1930s, then flattened out until around 1975, when it began rising more rapidly.
The warming in the 1930s appears to be in part caused by volcanic forcing (an unusual absence of large volcanic eruptions that would cool the planet by sporadically injecting plumes of sulfates into the stratosphere).
During the post-WWII era, warming caused by greenhouse gases was initially countered by cooling from anthropogenic aerosols. After the developed countries began reducing air pollution in the 1970s, greenhouse warming became the dominant trend, though it is still partially masked by aerosols, particularly from rapidly industrializing countries in Asia.
johnfajardohenry wrote:2) How much global warming has there been between 1998 and present (C or F)
That's not an appropriate interval over which to estimate global warming. First, it's too short -- the interannual variability from ENSO etc. will mask any long-term trends. Second, you're cherry-picking a starting year that coincides with one of the largest El Ninos of the past century.
Thus, if you calculate a trend from the El Nino year of 1998 to the present, it is +0.73C/century (CI -0.38 to +1.83C/century). But if you start one year later, during the La Nina year 1999, the trend is +1.1C/century (CI 0 to +2.27C/century).
Note the big impact of moving your starting point one year. Note also the excessively wide confidence interval. Both of these are indications that a 14-year period is too short to be estimating long-term rates of warming.
Instead, it makes more sense to examine the rate since the 1970s, when the warming trend from CO2 first exceeds the cooling trend from aerosols. Over the period from 1975 to the present, the trend is
+1.66C/century (95% CI of +1.37 to +1.96C/century)
.
I think that's the most realistic estimate of the late 20th century/early 21st century warming rate, for the globe as a whole. Again, land is warming faster, while the oceans are warming more slowly due to the high heat capacity of water. Most people expect the rate of warming to increase during the 21st century due to the combination of population growth plus industrialization in the developing world.
johnfajardohenry wrote:3) How accurate/precise are the measurements? (+/-) how many degrees C or F)
See confidence intervals above.
johnfajardohenry wrote:4) Have the climate scientists, in the past 20-30 years, been right about any of their predictions? If so which one(s)? For example, about the polar ice cap disappearing in 2012.
Some predictions have been remarkably accurate. The first modern prediction of global warming was in a 1975 Science paper by Wallace Broecker, a geochemist at Columbia University. (
"Climatic Change: Are We on the Brink of a Pronounced Global Warming?"
). Broecker's predictions are discussed in some detail
here
and
here
. Broecker's model omitted several factors that turned out to be important, but those included both warming and cooling factors, so they tended to cancel out and his result is quite close to the actual warming trend:
Likewise, NASA's James Hansen published a paper in 1981 predicting climate change (
"Climate Impact of Increasing Atmospheric Carbon Dioxide"
, discussed
here
and
here
). His model's predictions have also turned out quite well, though they under-estimated the observed warming (so far) by about 30%: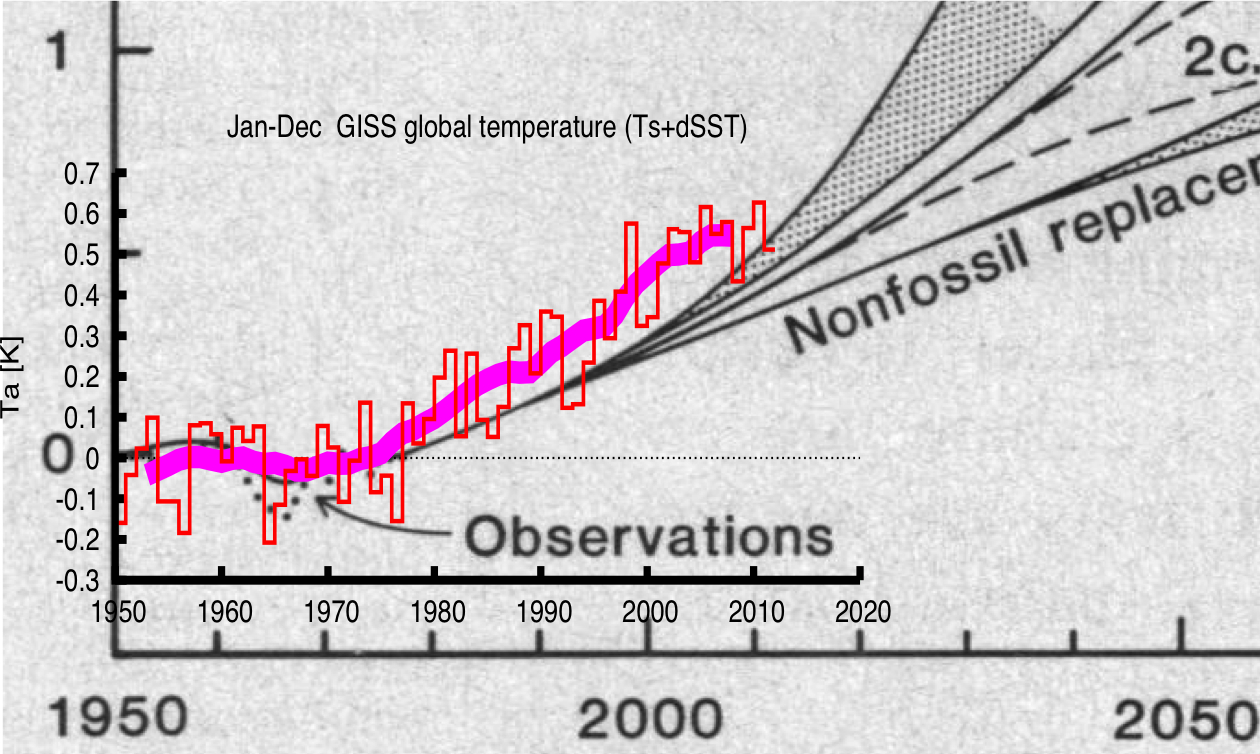 Note that both of those predictions were made at what turned out to be the end of a 30-year period of basically flat temperatures. It took some guts to ignore that and say "Over the next 30 years, the world is going to start to warm rapidly, due to CO2 emissions." Broecker and Hansen made some bold predictions that turned out to be right.
In other respects, climate and earth system scientists have tended to underestimate the effects of climate change. For example,
sea level has been rising at a rate near the upper end of the range of predictions
. Note that the actual observations (red, blue lines) follow the top edge of the gray band of predictions:
Another example is Arctic sea ice. Models predicting sea ice decline have improved a lot, but they continue to underestimate the rate at which sea ice is disappearing:
In that figure, the dotted lines in the background are outputs from various models; the solid black line is the mean of model predictions, and the solid red line is what actually happened.