It's Friday the 13th, but you are actually very lucky that a great rock show such as this is going on. Three great bands, one low price! Come early for the fish fry, stay for the rock.
10pm - $5 - 21+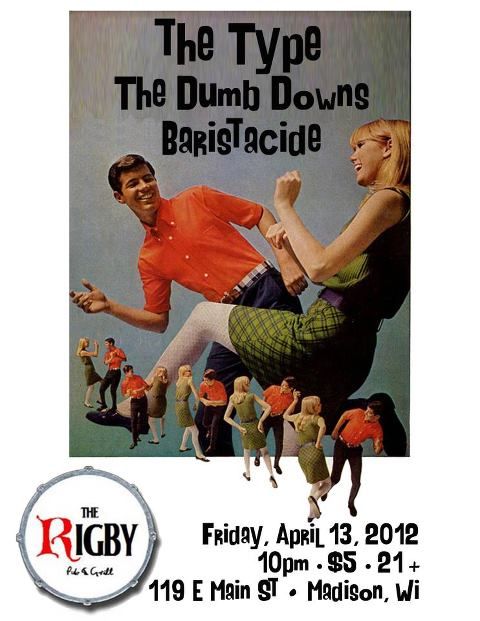 The Type
-
http://www.knowthetype.com
Do you like chick singers? Do you like songs about fucking and death and love and hate? Do you like distorted guitar feedback? Do you like amazing lyrics? Do you like gnarly-as-shit bass riffs? Do you like thunderous, wondrous percussion? Do you like to get your face rocked? Then you'll like The Type!
The Dumb Downs
-
http://www.myspace.com/thedumbdownsGLOCKENSPIEL
, AUSTRIA - Rescuers were stunned by an amazing discovery earlier this week when they uncovered a van that had been buried in the snow on Mount Manholdt. The van contained four musicians who had been trapped for over a decade. The men, members of the seminal Pop-Punk band The Dumb Downs, were on their way to record their debut album "Count and Spell with the Dumb Downs" with world reno...wned producer Ludwig Von Schtupenhagen. The van was appearently run of the road by a feral mountain goat just north of ye' olde Nuetensprecher farm. It is not clear at this time if the band members were in comas, somehow frozen in the snow bank or were merely passed out. When asked what the first move would be for the band after having been "lost" since 1992, a spokesman for the band, Goose Lamson said, "they're on their way to the studio Fuckhole!" Rumors abound that the band has laid plans to release "Count and Spell with the Dumb Downs" as a Double-Live album that will span what the band referred to as "almost 45 minutes of genius".
Baristacide
-
http://www.baristacide.com
Pop punk for people who hate pop punk. Eddy and Jonny of The No and Maybe Game needed a new toy after their old one broke. They recruited Poncho Pilot on guitar and Van Mojo on bass. A new legend was probably born.