Kevin Drum has
an interesting blog post
this morning (well, late last night), in which he comments on a recent article by Kurt Anderson in Vanity Fair.
The observation here is that since the 1980s, visual culture -- everything from movies to advertising to hair styles to corporate logos -- hasn't really changed that much.
This lack of change (if you buy the claim) is itself quite a dramatic change. If you think back, there would be no mistaking the styles of 1912 for 1932, or 1932 for 1952, or 1952 for 1972, or 1972 for 1992. But how much difference, visually, is there between 1992 and 2012? Movies and TV shows filmed in 1992 don't really look much different.
I can think of some counterexamples, areas where there's been
some
change in style. One is a general trend towards what, for lack of a better term, I'll describe as puffiness -- lots of things, from sofas to cars to running shoes to waistlines seem to have become
inflated
, or at least more rounded and bulbous.
Compare this (from the 2008 Paris motor show):
to this (introduced at the 1988 show, 20 years earlier):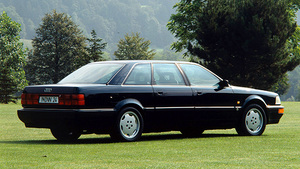 Still, I think in lots of areas -- clothes, hairstyles, graphic design sensibilities -- the visual changes from 1972 to 1992 feel so much more radical than from 1992 to today.