A huge number of jobs were lost during the 2007-2009 economic crisis. Over the past two years, America has steadily been regaining those jobs. This morning's job report was very good news, in that respect. According to
BLS data
, we gained 243,000 jobs in January (257,000 private-sector jobs). That's not too bad.
What's particularly impressive is how much better this recovery has been going, compared to the recovery from the 2001 recession. Here are some graphs that a friend of mine forwarded, comparing job losses/growth during Obama's and Bush's first terms. The first graph shows the change in the number of nonfarm jobs (in thousands), relative to the start of each president's term of office (January 2001 or 2009):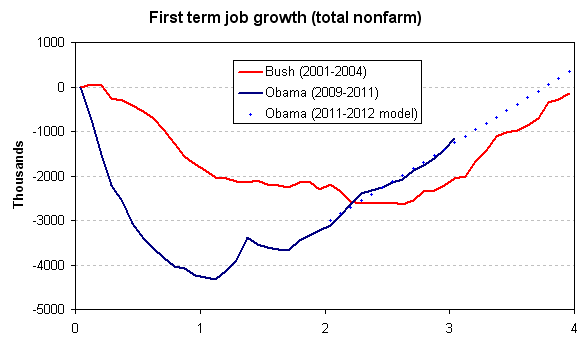 Note that Obama inherited a much worse economy, but job growth is actually recovering much faster. The dashed line shows a regression model to project job growth over the rest of 2012 based on the past year's data.
That looks pretty good. It looks even better if you focus on private-sector jobs, which have been increasing rapidly: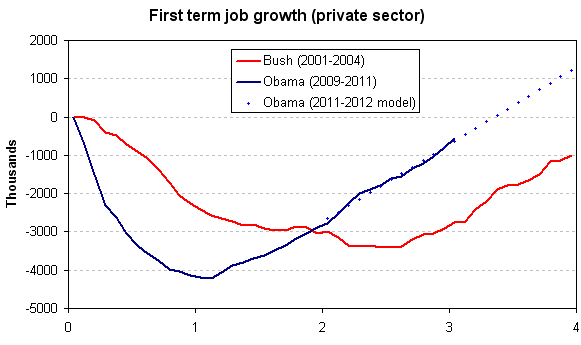 So what's holding total job growth back is the extreme cuts in public-sector jobs. The contrast with Bush's first term is stunning. By this point in Bush's first term, the country had
added
700,000 additional government jobs. In contrast, since Obama took office, the US has
cut
600,000 public-sector jobs.
Under Bush, public-sector employment gains partially cushioned the loss of private-sector jobs, while under Obama a steep reduction in public-sector jobs has partially negated recent private-sector job growth.
In case you're wondering, the large but short-term spike in public-sector employment during Obama's second year was ... temporary hiring of census workers. This happens in every decadal census year. It had no effect on the long-term trend.
While the numbers of jobs gained or lost is probably the best metric, the unemployment rate is also widely used as an indicator of the health of the economy. Here's a graph showing how the unemployment rate has changed since Obama took office, and how it changed during Bush's first term:
The trends in the unemployment rate aren't as smooth as in the job-growth data, so the projection for 2012 is probably less reliable. It's a bit of a lagging indicator, so it's likely that, by the time of the November election, we won't be quite back to where we were when Obama took office. But considering how severe the downturn was, even the unemployment rate is recovering quite a bit faster than it did under Bush.
So ... in summary: things are looking up. It's always possible that someone will screw up, and send the world back into another recession. One obvious danger is from Europe, where a deeply misguided obsession with "austerity" has been slowly strangling the economies of one country after another. A new economic collapse in Europe could poison our own recovery, if it happened.
But I'm now feeling pretty optimistic about 2012. I think there are ways in which this country's governance, economic institutions, and social discourse are dangerously off-track. I'd strongly prefer to see the country address some of those problems, rather than pretending they don't exist. But things could be far worse.