I really hate how you could be watching this great new show - in this case, HBO's "Enlightened". You know, Laura Dern - awesome. Pilot episode, awesome intro. Kind of a thematic reprise of her role in the excellent movie Novocaine. Her character Amy Jellicoe is this great high ranking executive who sort of falls from grace like a burning meteor. After an affair with a fellow exec she takes the fall, he has her transferred to another department, after cutting things off with her, just basically sabotages her and the series starts basically the moment it all sinks in, and she
flips
out big time. After a fantastic tirade through the office making a disaster of everything she singles the guy out, he is escaping with other top brass on the elevator, she's so pissed and furious -- pries the fucking doors open from a full close screaming,
"I will bury you, I will kill you motherfucker!"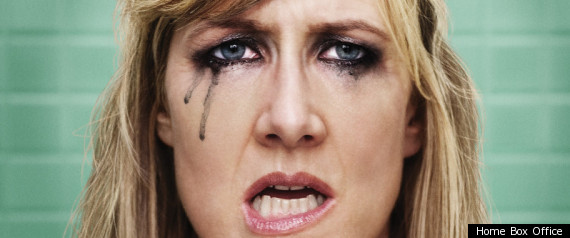 I'm like, that's spectacular. Great character. Great series. Great writing. Laura Dern is actually really, really great sometimes.
Obviously, Jellicoe's entire life falls apart at that point in the opening scene and the rest of the show is after she gets back from this $48,000 rehab treatment on Hawaii, she comes back still $24k in debt, and a little bit rehabilitated, but also sort of fucked up from it. Like the treatment
did
do her some good, but its the kind of place where they also filled her head up with some major bullshit. She's wrapped up in all these self help programs, which I think we've all met people who have been in those where you think, 'boy is that helping or hurting'? But it's kind of not bad, because the writing does sort of 'reveal' how flawed that kind of program can be; so it's a bit of tongue in cheek critical satire. Which, that is a good thing to have in your story.
Even still, what Jellicoe wants, her great driving motivation (to get her buyer job back) is a desire that is ridden with illusions and personal blindness, and a failure to recognize the core of her problems; she's trying to deal with them but they're profound enough that really delving that mine alone and in such a short time is basically just beyond what any one person should or could be capable of. She has this latent rage issue, and the way Dern plays it just under the surface, it's like you want to look away but can't.
So I'm stuck watching the series because at least so far it's really, really good.
But just like
every
other series -- ridden with rampant traces of bullshit new age politics. -- All these really tired, cliche notions about 'dumping', 'sweat shops', 'union busting', which I could give a fuck about.
I wouldn't mind so much, but I'm really sick of all this
'socially conscious'
, evangelical bullshit that has become a mandatory institution in any entertainment program a person could possibly attempt to watch.
It's really to the point where it's hard for a serious person to be interested in any cultural influence written any time after 1901. I mean the Pilgrims fled England to get away from a coercive religious authority that essentially endeavored to tell them what to think. Where do we go now, if we want to get away from the same?
I'm tired of being exposed to programming where the overriding focus is to pump out this blaring message about what kinds of people it's 'okay' to have as the boss, what kinds of people it's 'okay' to have as leading roles, what kinds of people it's 'okay' to give all the good lines to -- and who should be in the background, with the bad lines, with the 'shame' roles, with the dunce, unlikable characters.
Is nothing allowed to be good, on the basis of merit? Because the merit of the craft and the work is what I miss most of all, when networks insist on poisoning good story craft with bad social evangelism.
The quandary for me is, if this is what's to be done with the work and the product of all the people I would otherwise be inclined to be enthusiastic about, then who's left to like?
By episode 5 she is organizing a rally about deporting illegals. Why would I watch that?