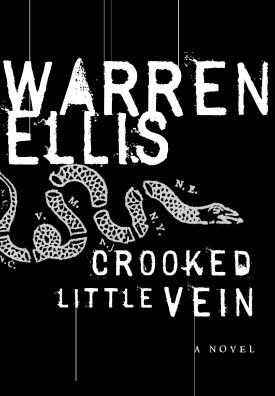 It's the kind of book I've been searching for. That strange tome lurking squished under a pile of ancient Redbook magazines in the back of a dusty bookstore in an old house manned by a grouchy bearded troll named Hap.
Wow.
Every sentence is quotable.
A couple opening lines from different chapters:
Chapter 1: I opened my eyes to see the rat taking a piss in my coffee.
Chapter 4: By Sunday, I'd moved into the Z Hotel, where the doormen dress like ninjas and stab passing poor people in the neckbits with wooden swords.
Chapter 13: "This is where we shoot salt water into your testicles," said Gary.
Oomph.
Weird, smart, freaky, funny, odd, sexy, violent, savvy.
Warren Ellis is mostly known for graphic novels like Desolation Jones and Transmetropolitan.
Great, but this is greater.
I want more!
William Gibson
: "Stop it. You're frightening me."
Kinky Friedman
: "....like a bipolar Raymond Chandler...it's also funny enough to make you shit standing."
Joss Whedon
: "I think this book ate my soul. Funny, inventive, blithely apalling, this book is Dante on paint fumes."
Easily offended? Close this post and back away.
All others: prepare to be wonderfully horrified.
BORROW, BUY, or BURN?
BUY
.
From boingboing.net
Warren Ellis's first novel, "Crooked Little Vein" is about what you'd expect from the Internet's most gonzo celebrant of the kinky, deviant, gross, hard-boiled and manic. Like Hunter S Thompson with an Internet connection, Ellis's hard-boiled detective story veers into hilarious gross-out turf from the first page, when a heroin-addicted presidential chief of staff charges the narrator of the book to retrieve a holy relic. The relic is a record of the "true" constitution of the United States, containing the mystical spell that Benjamin Franklin composed after killing an alien who had been sodomizing him in a hotel room in Paris. The book -- bound in the alien's skin -- has the power to restore America to colonial morality, banishing its Internet-era perversions. But first it must be retrieved from its current owner -- whomever has inherited title from the hooker to whom Nixon gifted it as a hush-up bribe.